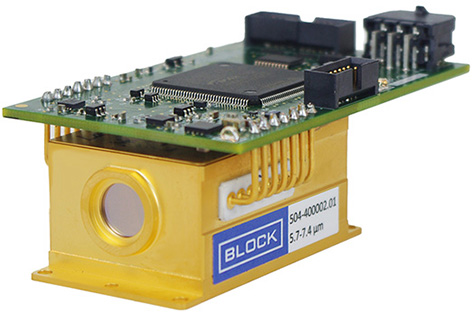 When low cost and extremely compact size are most important, the sQCL is the tunable laser of choice for OEM integrators and researchers.
The sQCL system is a new Gen2 product that leverages the best of Block's funded development projects and years of commercial experience. New optical design and packaging provide higher power, greatly enhanced thermal management and output stability, and up to 3x increases in maximum duty cycle.
For stand-alone laboratory use or evaluation, the sQCL can also be provided in the LaserTune-S package with integrated S-Controller for turnkey benchtop operation.
The sQCL also adds smart technology onboard, and can run a preprogrammed WN pattern in stand-alone mode from a simple bias voltage and trigger input. This integrated module enables streamlined product configurations at a fraction of the cost and bulk of other approaches.
The sQCL performance and form factor enable new applications in biomedical, semiconductor, battery contamination/condition, and portable device integration. It also provides traditional QCL uses in real-time gas analysis applications like greenhouse gas monitoring, automotive combustion analysis, oil and gas exploration, and air quality monitoring.
The module is also designed to be integrated into a variety of spectroscopic instruments, including products used in the fields of Photoacoustic Spectroscopy (PAS), Cavity Ring-Down Spectroscopy (CRDS), and Atomic Force Microscopy (AFM).
The sQCLs can be selected from Block's variety of wavelength ranges; both standard and custom ranges are available. Please contact Block to discuss your application requirements.
Product Highlights:
OEM integration ready
Ultra-miniature footprint, including electronics
Cost effective solution for volume
Ideal for portable instruments
Superior stability
Wide thermal operating range
Wide choice of mid-IR lasers for desired wavelength range
Configurable wavenumber sweeps, step functions, or static WN output
Wide flexibility in waveform creation, including dynamic parameters
Available SDK enables rapid integration
To download a brochure with more detail on Block's laser products, please click here (PDF). If you would like detailed technical specifications, please contact us.
We would be happy to discuss how any of Block's lasers can help with your application needs. Please contact us with any questions.