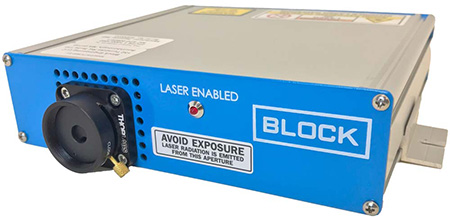 Block Engineering's LaserTune-S is a next-generation tunable quantum cascade laser that delivers a six-fold increase in power, much greater thermal and temporal stability, and powerful electronics with unique pulse design capabilities.
The LaserTune-S is delivered in the industry's smallest form factor package, and does not require bulky external cooling systems.
Based on Block's sQCL single-tuner laser module, the LaserTune-S can be configured by customers to cover a 2-3 micron range within a larger 5.4 to 12.8 µm span.
The new power-efficient and compact control electronics allow for flexible programming options from wavenumber sweeps, steps, or holding. Dynamic pulse lengths and duty cycles enable you to actively manage average power at each wavenumber.
The LaserTune-S is designed to be a reliable benchtop tool for researchers. It can also be used for OEM evaluation of Block's sQCL laser modules. Any evaluation and development efforts can be transferred from the LaserTune-S directly to the sQCL, as both share similar specifications.
Key Benefits & Advantages
Six-fold increase in power
Flexible wavelength range in a user-selected single tuner
Excellent thermal and temporal stability
Dynamic pulse lengths and duty cycles
SDK for streamlined programming and control
Wavenumber sweeps, step functions, and static wavenumbers
To download a brochure with more detail on Block's laser products, please click here (PDF). If you would like detailed technical specifications, please contact us.
Contact us to discuss how the LaserTune can help with your application needs. If you have a mid-infrared application and need help with development, Block's award-winning development team would be happy to discuss how our design services can help you reach your goals.
You can also review our sQCL and mQCL MiniQCL component modules for integration of quantum cascade lasers into larger systems.