Winner of the Milipol Innovation Award for Crisis Management
Winner of the Prism Award for Environmental Monitoring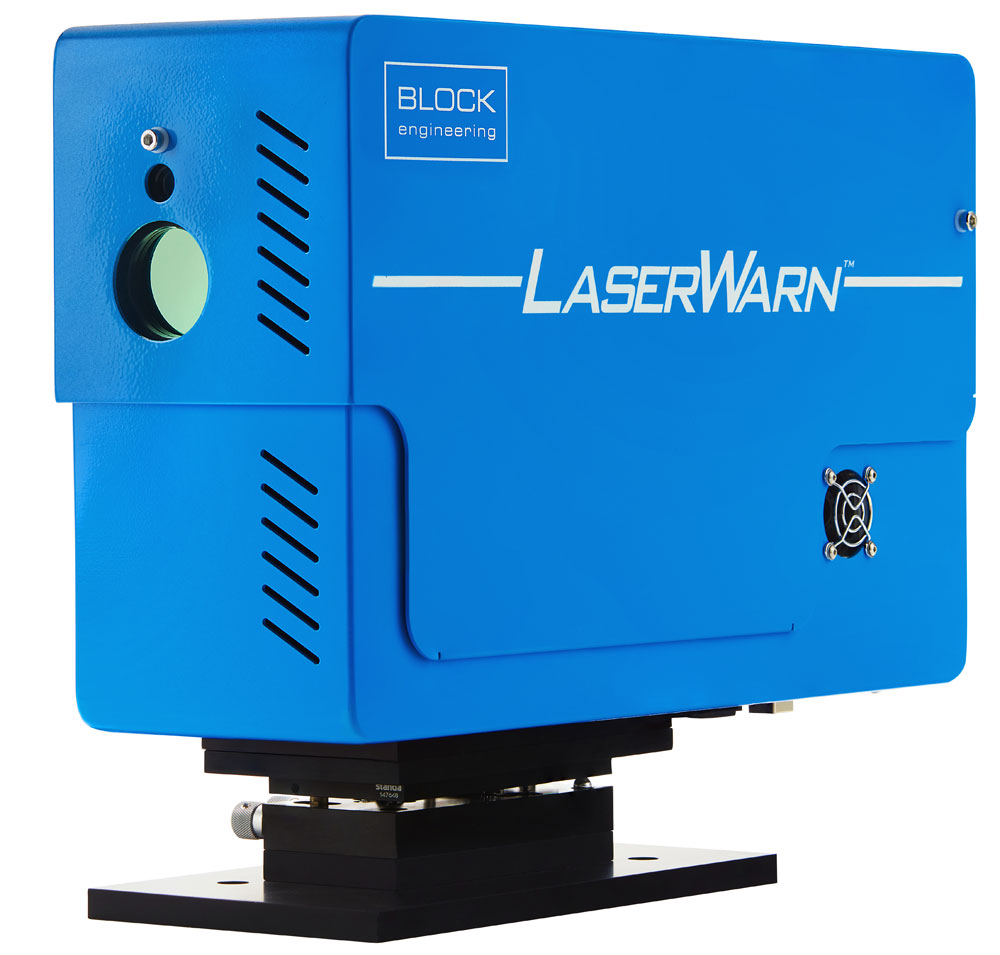 Block Engineering's LaserWarn is an open path chemical gas detection system based on our patented quantum cascade laser technology. LaserWarn detects chemical threats over a coverage area of thousands of square meters, and is available in both indoor and outdoor versions.
Eye-safe laser beams and low-cost reflectors provide real-time, 24/7 early warning of Toxic Industrial Chemicals (TICs), Chemical Warfare Agents (CWAs), and other chemicals. The system configuration is tailored to each site, and can be visually blended into existing architecture and interior design. System updates can be provided in response to emerging threats.
Multiple hazardous chemicals can be detected within seconds, even in chemically "noisy" environments. The system requires no consumables, and is low maintenance compared to conventional networks of point sensors. The system is available in a ruggedized IP66-certified version for harsh environments, as well as a lighter version for indoor use.
The system features a multi-level Graphical User Interface, providing simple red/green or more detailed information screens. Additionally, XML data output streams directly into existing command + control displays.
Key Benefits & Advantages
Operation in selected ranges in the mid-infrared spectrum (7-13 µm) where toxic gases have strong and unique spectral signatures
Greatly increased sensitivity, aiming accuracy, and distance compared to conventional infrared systems
24/7 indoors or outdoors operation
Expandable library of chemical threats to match specific operational requirements
No consumables required, allowing for minimal maintenance
Eye-safe laser beams allow for operation in areas with people
Fast readings allow for rapid detection and immediate warning alerts
LaserWarn provides advantages over competing technologies
The Quantum Cascade Laser-based technology behind LaserWarn provides significant advantages over competing technologies. LaserWarn provides much larger detection distances and greater sensitivity than conventional IR and FTIR systems. The system detects a wide range of gases, and requires no consumables.
| Technology | Standoff Distance | Number of Gases | Consumables | Detection Sensitivity |
| --- | --- | --- | --- | --- |
| Block's LaserWarn QCL System | Very Long | Many | None | High |
| Open Path FTIR | Limited | Many | Liquid Nitrogen | Medium |
| Open Path NIR | Limited | Limited | None | High |
| Open Path IR | Very Long | Few | None | Medium |
| Distributed Sensors | Short | Many | High Maintenance | High |
To download a datasheet with more detail on the LaserWarn, please click here (PDF, 5 MB). Or you can view a video demonstration of how the LaserWarn protects facilities from chemical threats.
If you would like to discuss how the LaserWarn can help with your application needs, please contact us.