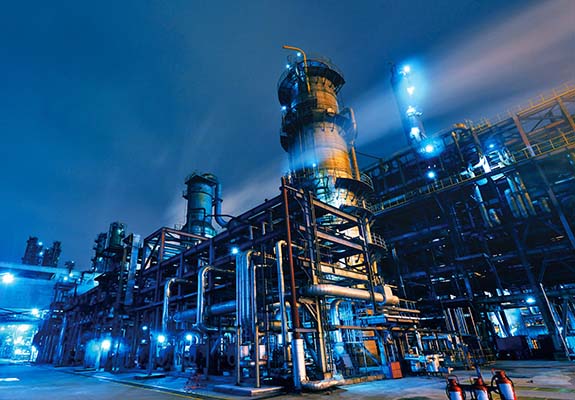 Block's quantum cascade lasers are designed for use in a variety of industrial, process control, and environmental detection instruments. QCLs allow for near-instantaneous standoff identification and analysis of chemicals and chemical properties.
In the growing field of bioreactors, QCLs can be used to monitor real-time reactions. In oil and gas applications, laser-based instruments are quickly replacing traditional gas chromatographs, allowing for analysis of hydrocarbons and BTU/Wobbe measurements. In semiconductor and other clean-room manufacturing environments, QCLs allow for detection of toxic chemicals and assist with quality control measurements.
Wastewater analysis is becoming a crucial tool for process control, and to assist with disease detection and early response. Block's lasers allow for monitoring of pathogens, opiates, contaminants, and chemicals in both drinking water and waste streams.
The following is a list of industrial and environmental applications that can benefit from using an infrared laser-based analyzer.
Industrial Applications
Petrochemical process monitoring
Biogas, ammonia, formaldehyde, petrochemical gas detection
Food/dairy process monitoring
Environmental gas sensing applications such as:
volatile organic compounds
hydrocarbons (methane, propane, butane)
Monitoring water and wastewater for nitrates, phosphates, pathogens, hydrocarbons, opiates
Detection of per-and polyfluoroalkyl substances (PFAS) in air and water
Gas leaks in industrial and chemical processes
Semiconductor quality control, gas leak detection
Ellipsometry
Additive manufacturing process and quality control
Analysis of plant diseases
Food contamination and quality control
Bioreactor process monitoring
Please contact us to discuss your application needs, or visit our products page for technical information on our laser products.