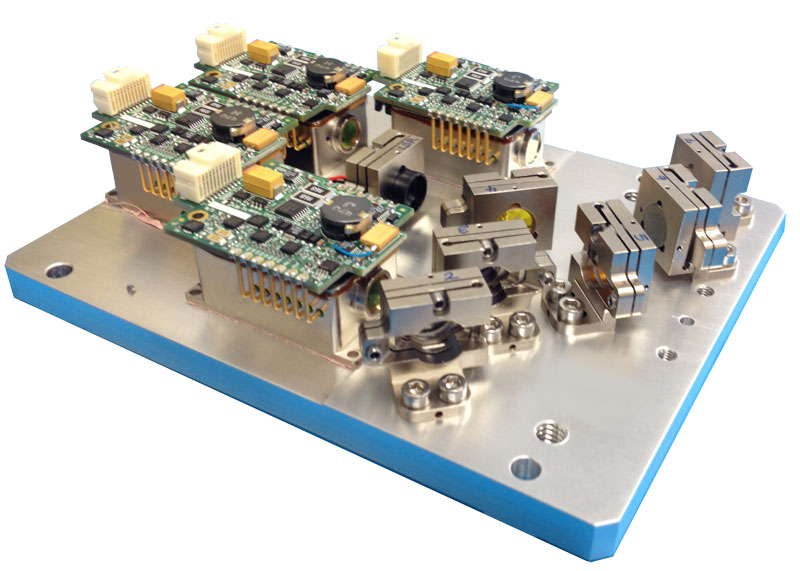 Block's mQCL provides multiple lasers in a fully functional module for easy product development and integration.
The mQCL system is an "open" OEM version of Block's enclosed, ready-to-operate LaserTune package. The unit combines a selection of QCLs as determined by your project's wavenumber range requirements.
The system contains electronics to integrate the scanning of these QCLs with seamless transitions via the System Interface Board (SIB). The mQCL controls temperature via the TECC controller and TEC, and has an available SDK for integration with your system's electronics and software.
The system accommodates configurations of 1-4 QCL tuners where the tuners, beam combining and steering optics, and optional visible alignment laser are all affixed to the optics plate. The mQCL tuner modules are controlled by miniature driver electronics with trigger I/O to enable seamless system timing. The interface to the electronics ranges from low-level serial to high-level Ethernet protocols, for options in your integration approach.
The module is designed to be integrated into a variety of spectroscopic instruments, including products used in the field of Photoacoustic Spectroscopy (PAS), Cavity Ring-Down Spectroscopy (CRDS), Atomic Force Microscopy (AFM), and a range of dispersive and non-dispersive instruments. The mQCL is especially beneficial to IR microscopes and IR spectrometers that can conduct standoff, non-contact analysis due to the high spectral radiance of Block's QCLs.
Product Highlights:
OEM integration ready
Configurable lasers to achieve desired gap-free wavelength range from 5.4-12.8 µm
Wavenumber sweeps, step functions, static wavenumber control
On-board software allows you to easily control the laser
All the functionality of our LaserTune product in an OEM form factor and cost point
Available SDK enables rapid integration
To download a brochure with more detail on Block's laser products, please click here (PDF).
If you would like to discuss how Block's lasers can help with your application needs, please contact us.