Our Products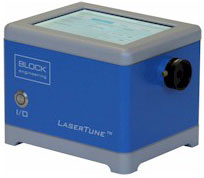 Quantum Cascade Laser (QCL) Products
Block has created IR absorption spectrometers and a mid-IR source, based on widely tunable (over 600 cm-1) QCL lasers. The fully-integrated systems utilize a high brightness source, which results in high spectral power density and radiance. Our QCL spectrometers can measure at standoff distances with high sensitivity and can rapidly analyze highly absorbent or diffusive materials.
Products include:
Standoff Passive FTIR Spectroscopy Products
Block has five decades of experience in developing chemical sensing devices using advanced spectroscopic techniques, such as Passive FTIR, Standard FTIR, and grating-based spectrometers. Our Standoff Chemical Detection products are used extensively by the Military and Department of Homeland Security, and their ruggedness and reliability have been tested and validated for over 10 years.
Products include:
M90/100 is a compact, rugged Passive FTIR Spectrometer, which operates in the 7-12 µm range and is capable of detecting chemical clouds as far as 3 miles. The product is offered in both OEM and complete system configurations.
PORTHOS™ is a portable, fully integrated system, which contains the M90 FTIR spectrometer, complete chemical recognition software, built-in self calibration, on board data storage and battery.